Origin Exploration Ltd. & Its local subsidiary Origin Exploration Liberia Ltd. are pleased to announce the completion of our maiden year in Liberia, receipt of assured geochemical data and 'first pass' targeting results from Moores & Unity.
THE SHORT STORY
Our excellent local teams sampled nearly 2500 soil points, including 600 target infill samples and 1900 on a regional grid. From PXRF and assay data, we have identified several main targets for follow up between our Unity & Moores properties, including a 5km soil trend (with up to 0.84g/t Au) and continuous arsenic and Tungsten trend, along with evidence of a regional-structural alkaline alteration system with 2 new, interpreted and previously unmapped, NE trending shear structures, splaying from the main fault, to the east of the Dube shear zone at 'Unity'. The team also identified new fault systems through an artisanally mined alteration halo surrounding a gabbro intrusion in 'Moores'.
The technical staff have proposed a costed and structured 'phase 2' target development program with a proposed budget range of $1.2-2.5m, to include the acquisition and assessment of other nearby properties, aeromagnetic surveys and further soil sampling to define lithology:aeromagnetic relationships, with the our newly updated mapping and satellite multispec data.
We are now inviting calls to discuss active or silent partnerships, joint venture opportunities or equity financing, with a view to becoming Liberia's fastest, most efficient, and best costed junior explorer, prepare us for drilling, and support us towards a strong IPO position in the near term.
Please feel free to reach out to me at Liam@OriginExploration.co.uk for any further information.
THE LONG STORY
Our exploration campaign 'phase 1.1' began in October 2020, with multi-spectral satellite analysis of our projects completed by Neil Pendock of Manatee Ltd. The initial results suggested that historical (1960-1980s) mapping assumptions from the USGS geophysical database were likely to be unreliable. Immediately we saw trends and chemical patterns off trend to the old data, with metallic enrichments and structural zones previously unmapped. Excitement built and we quickly mobilised to go exploring in 'fresh' terrain, armed with original data.
Senior geologists Rowan Thorne, Gemma Lawson & Varney Anthony, supported by a field team of 12 local skilled assistants from Mac-Africa Consulting, and 35 bush guides from the local community, entered the property in Grand Bassa and pitched our tents. The team completed 950 regional soil samples, mapped out new regional features, sampled mineralized and variably altered systems and returned to Monrovia, within budget and schedule.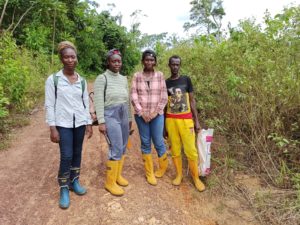 We took a short break that Christmas to rest our legs and assess data, the initial geo-observations showed significant FeCa, serecitic & potassic alteration systems surrounding newly mapped NE trending faults, cross cutting the main Todi Shear zone. There was also a significant artisanal mining presence in the halo of a NE trending fault offset, gabbroic 'plug' intrusion.
To say the least, we were thrilled with the initial prospectivity and secured further funding to return and continue our program.
Phase 1.2 commenced in January 2021, with a 2-week artisanal sampling trip in the Moores property, followed immediately by a 2-day drive to 'Unity', which straddles the border of Maryland and Grand Kru counties in the SE of Liberia.
Right away we dropped into artisanal workings (that we'd identified through prior satellite work) and saw local workers digging saprolite and clay, their gold was presumed to be 'in situ'. 950 regional grid, and 600 target infill soils were collected from Feb to March, dried in our purpose built soil-prep lab on-site & analysed by PXRF.
Normally we'd take another break here and regroup, but we couldn't wait and remained in country to compile data. The soil geochem was loaded up and provisional maps 'back-of'enveloped' as we awaited our first batch of gold assay results.
The Unity project quickly divided into 3 geochemical systems. Along with a field observation of magnetite-gold association within various felsic gneiss units, we saw a strong copper-arsenic-tungsten trend in the PXRF data, following the Dube shear structure (which our project divides, with ASX listed Tietto Minerals drilling it to the West) and to the south at our 'Jolodah Mine' target zone. Most interesting (to me, as a geochemistry geek) were strong yttrium patterns, that appeared to highlight alkaline alteration zones and followed 2, entire and previously unmapped, shear splay systems parallel to the main Dube shear. One of these shears aligned to historic gold stream sampling grades from Hummingbird Resources' 2010 campaign and the other seemed to pass slightly NW of the large artisanal mining areas near to 'Giant Town'. For a first pass run on the properties, the data was exactly what we wanted!
Several weeks later, back in our homes with family, we received our gold assay results from MSA in Cote D'Ivoire. The highlight was a 0.84g/t in soil from Unity and a notable gold trend with potassic systems (matching our predictions). We also saw a trend emerging in our 'Jolodah Mine' and 'Gbeaken North' zones. At Moores we saw 0.1g/t samples on trend with our regional structures in grab samples and soil data confirming our initial observation close to artisanal workings.
Sampling was performed on a regional basis, at speed, to quickly assess our team, our operating procedures and kept at a low cost as we launched. We believe that with a follow up targeting campaign, our team can hone into the gold grades and identify significant drilling/trenching targets across both of our existing properties, as well as completing 'first pass' surveys across 2 new areas, totalling 550km2 (giving us a total of 830km2 along major regional shear zones).
We have now started the process of bringing in 'cornerstone' partners to our private group. An initial 'internal launch budget' of $450,000 from our founding investor has allowed us to prove our concept, completing a fast, on-time campaign that delivered results and targets in greenfield terrain.
We are now prepared to attack phase 2, with aeromagnetic drone surveys, infill soil targeting and project expansions, taking us to a better developed, 'drill ready' or 'IPO Ready' state. Our phase 2 program requires a projected $1.2m of investment, with the potential to expand to $2.5m, should our new partner(s) wish to 'accelerate' our countrywide exploration plans, or focus on our existing targets.
We are welcoming discussion of equity, JV, operating and silent partnerships with the right investors who share our vision of becoming the largest, most-efficient and most transparent operator in the region. Our new data, including our ESIA and ESG reports, are openly available for any interested parties and I am more than happy to set up meetings, calls and site-visits, as you prefer, to showcase what we have and what we can do here.
Please feel free to reach out to me at Liam@OriginExploration.co.uk for any further information.